• #TBT • cavy • cavy care • guinea pig vitamin c supplements • Natural Science Vitamin C Suppolments • TCC
The best way to supplement with additional vitamin C is to use vitamin C tablets. You can buy vitamin C tablets specifically for guinea pigs (e.g. Oxbow's GTN-50C), or buy human chewable 100 mg tablets (note: make sure you are getting just vitamin C rather than a multivitamin formula). A quarter of a 100 mg tablet daily is a recommended dose for most adult guinea pigs. The guinea pig tablets are 50 mg, but since vitamin C is a water-soluble vitamin, small excesses over that daily requirement are easily excreted. Many guinea pigs will take the tablets like a treat and eat them, or they can be crushed and sprinkled on vegetables or pellets.
---
• #TBT • best pets • cavy care • cavylove • FeaturedGuineaPig • TCC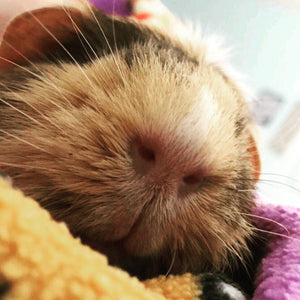 the_cavy_closet 's #FeaturedGuineaPig for July 2017...the lovely Miss Elli 🐷🌈 Elli is 7.5 year old Cavy from California. Her favorite snacks include apples 🍎 and cucumbers 🥒        DM to become a Featured Piggy--Now accepting new Piggy Models!